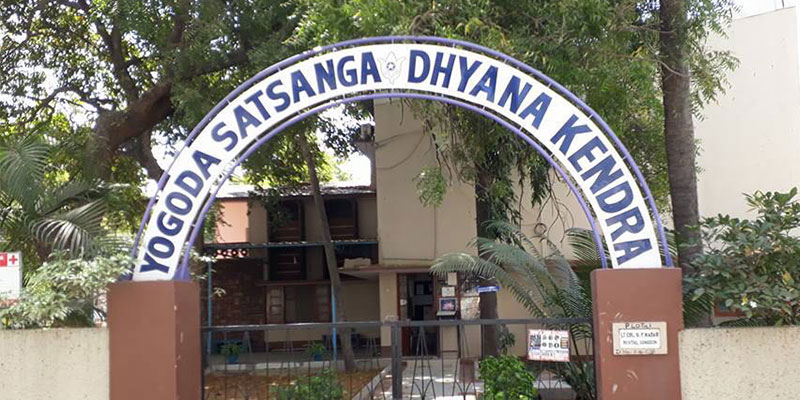 Yogoda Satsanga Society of India (YSS) was founded by Sri Sri Paramahansa Yogananda in 1917. The mission of YSS is to make available all the ancient scientific teachings, and meditation techniques of Kriya Yoga for achieving all-round success, well-being, and a direct personal experience of God. YSS has more than 200 centers across India to help all Truth-seekers to experience the power of group meditations and share spiritual fellowship. Hyderabad Dhyana Kendra is located in the heart of the city in Chikotee Garden, which is an uptown residential area in Begumpet. Begumpet has grown over the years into a bustling commercial area with major shopping complexes and offices around the Kendra. The Kendra started in 1975, with just a couple of devotees in the house of Dr. (Lt. Col.) G. P. Nayyar, who was a retired Army Dentist, originally from Lahore. Dr. Nayyar demonstrated a strong sense of discipline and instilled the same in the devotees who gathered to meditate. Till his last days he took keen interest in the growth of the Kendra, which grew from a handful of devotees to several thousands.
The house is a sprawling bungalow on a plot of approximately 950 square yards, with a large open space around. There is a book sale room, a reception area, two bedrooms, mezzanine floor with a large balcony, a servant quarter, etc. Until 1996, the devotees used to meditate in the hall on the ground floor. The meditations were held each Sunday, with the entire altar and asanas set up for the evening by Dr. Nayyar himself. He also arranged the Sunday prasad of fresh coconut pieces for more than two decades. As the devotees grew in number, the little hall could no longer accommodate them. It was then that a larger hall was planned and constructed on the first floor. The group meditations were held on the first floor thereafter, which can accommodate more than 100 devotees. A small garage was converted into a free Medical clinic to serve the needy. Dr .Nayyar passed away in the year 2010 bequeathing the house to YSS.
As before passing of Late Dr.Nayyar, today, the bungalow is completely used by YSS for meditations, YSS Gurus commemorations, charity and service activities. Daily meditations are held in the Kendra by a resident sevak who looks after the premises. Monastics who visit the Kendra are given a separate room within the premises. A reception area, books room, library, a toilet block, and dining hall serve the needs of the devotees. The clinic offers free Allopathy and Homeopathy treatment and medicines.